"Commitment to Excellence"

CHS
150 Genesee Street
Chittenango, NY 13037
(315) 687-2900
FAX (315) 687-2924
NICHOLAS FERSCH - Principal
MATTHEW MORKEL - Assistant Principal
JOE HAVEN - Athletic Director
Phone: 315-687-2900
FAX: 315-687-2924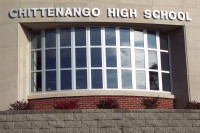 Chittenango High School serves approximately 600 students in grades 9-12. Multiple networked computer labs and classrooms, a fully automated Library Information Center with Electronic Doorway status, and technologically proficient staff in virtually all academic areas ensure technological access and learning for all students. There are currently advanced and regents sections offered in English, Calculus, Biology, Physics, and American History. Average class size is approximately 22. Approximately 85% of students go on to post-secondary education. 75% of our seniors take the SAT averaging 505 on the verbal and 526 in math. Many also take the ACT. Strong programs in the visual and performing arts are highly subscribed to by our students. A full range of Junior Varsity and Varsity sports teams are available for male and female athletes.

PARENTS AND THE NEW GRADEBOOK

Parents: You can set up access to GradeBook in order to follow your Middle School and High School level children's grades and homework assignments. This is very easy to do. You just have to have your valid e-mail address added to your parent profile in the school's data base and a GB1 or GB2 code, which we will add if it isn't already there.

There is no need to have your childrens' ID's and passwords or to have to sign in for each child. With your own account, you have control and all of your children are there – you just switch between them.

Once your profile is up-to-date, you will sign onto the school website and click on the Parents tab, then "SISWeb Gradebook" in the dropdown box.

On the screen that comes up, you enter your e-mail address in the top box and then go to the bottom of the screen, where is says "New Users." Click on that and it will prompt BOCES to send you a temporary, 1-HOUR password to your e-mail address. This takes a minute or two. Go to your e-mail and get the temporary password, then go back to the sign-on screen for SISWeb Gradebook and sign in using the temporary password and immediately click on "Change Password" and change the temporary password to a permanent password in the boxes that pop up below.

You can now see all of your Middle School and High School level children's information.

Sounds easy. It is. If you would like to have your e-mail address added to your profile, just click on the link below for an electronic form that you can fill out and send back to us here in the Counseling Center and we will notify you when your profile has been updated.